Death s Door Review. A new indie masterpiece in the vein of Hades and Dead Cells or another flop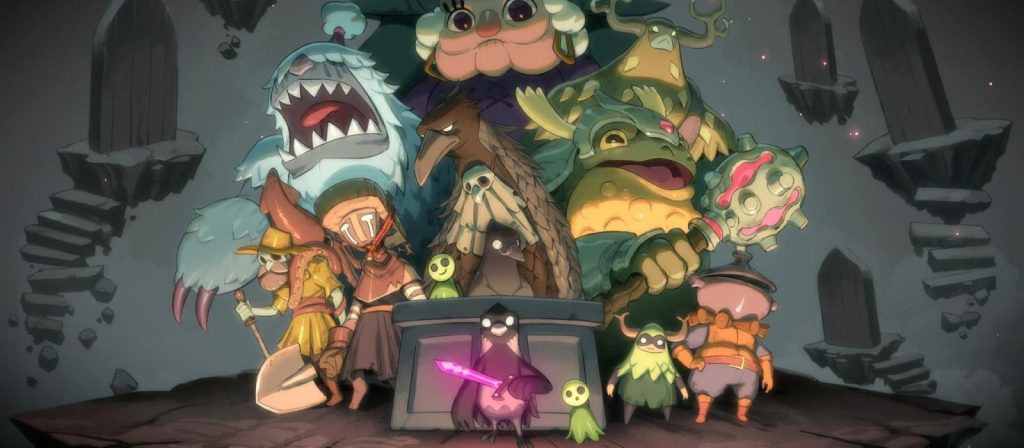 Death's Door review. A new indie masterpiece in the spirit of Hades and Dead Cells or another passerby?
The other day Death's Door was released, an unusual action game with an elaborated combat system and stylish visuals. Gamers have raved about the game, with 92 percent positive reviews on Steam. But will it be enough to become a hit like Hades and Dead Cells? Or Death's Door is overrated and not worth your time? I passed the game — And now I want to share my impressions!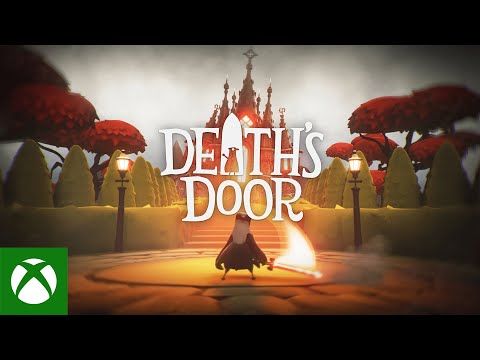 Indies that are cooler than AAA
While most of the modern AAA's are made as if from a template, gamers have to get bright emotions from indie projects. Look for an unusual concept? Check out the shocking Doki Doki Literature Club. Needs a strong story and thick atmosphere? Get the Kentucky Route Zero. Choose a fast-paced action game? Dead Cells and Hades fit perfectly.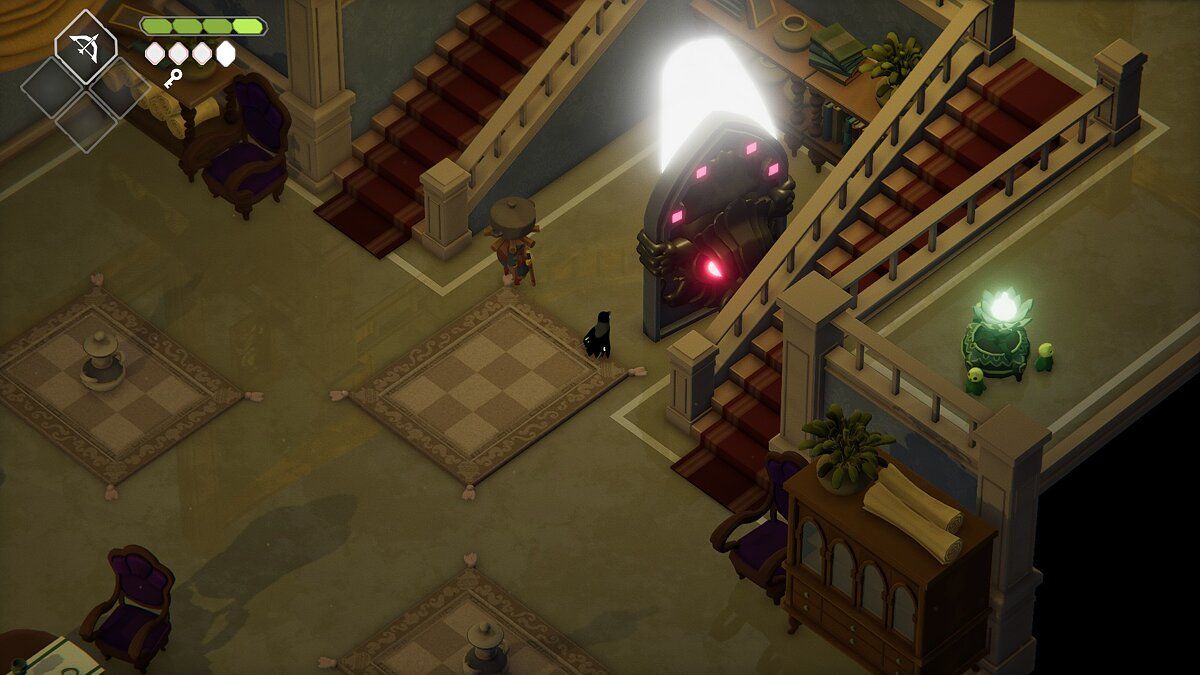 The line between indie and AAA began to blur. In 2018, the best action game of the year at The Game Awards was a two-dimensional «bagel» Dead Cells. In 2020 the editors of TIME magazine and famous ceremonies like Game Developers Choice Awards chose not The Last of Us: Part 2 as the best game of the year, but Hades.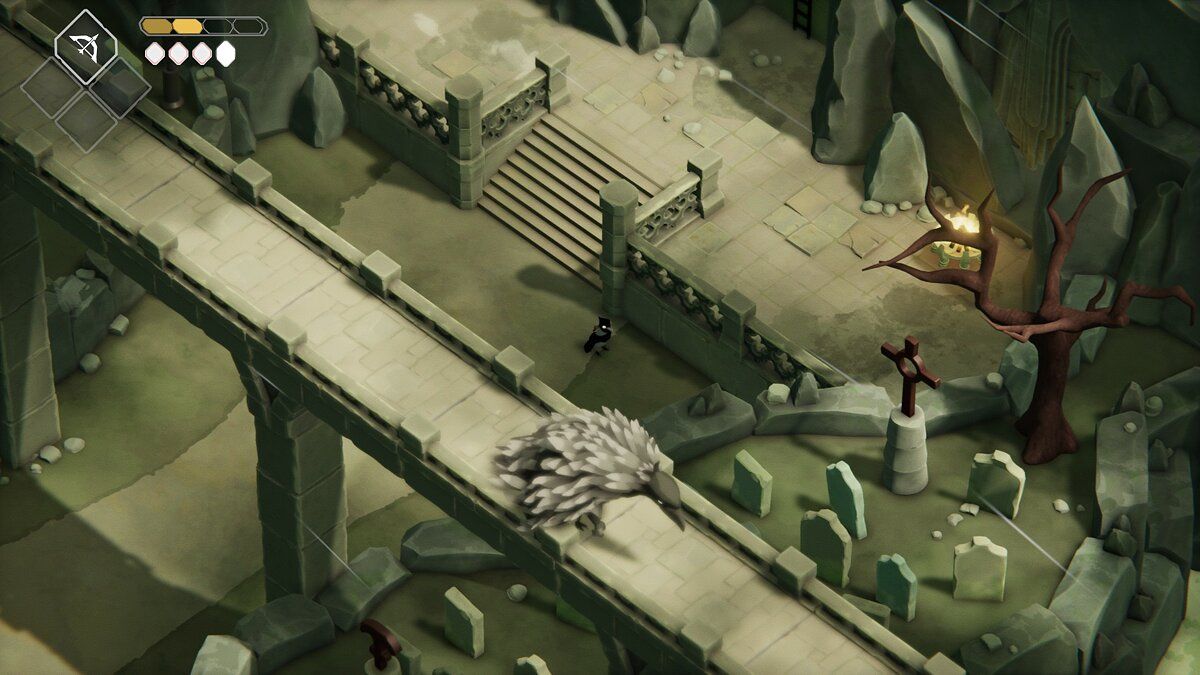 That's why gamers keep a close eye on indie title announcements, and at Devolver's E3 2021 presentation, Death's Door was noted. It was developed by Acid Nerve studio, which has only good Titan Souls in its portfolio. But what was Death's Door? Spoiler: great, but it cannot reach the laurels of Hades.
Death's Door storyline
The protagonist of Deathལs Door — Raven. Unlike his counterparts in Krylov's fables, he does not argue with the fox for cheese, but is engaged in serious business. He — A reaper who takes lives and brings souls to the afterlife.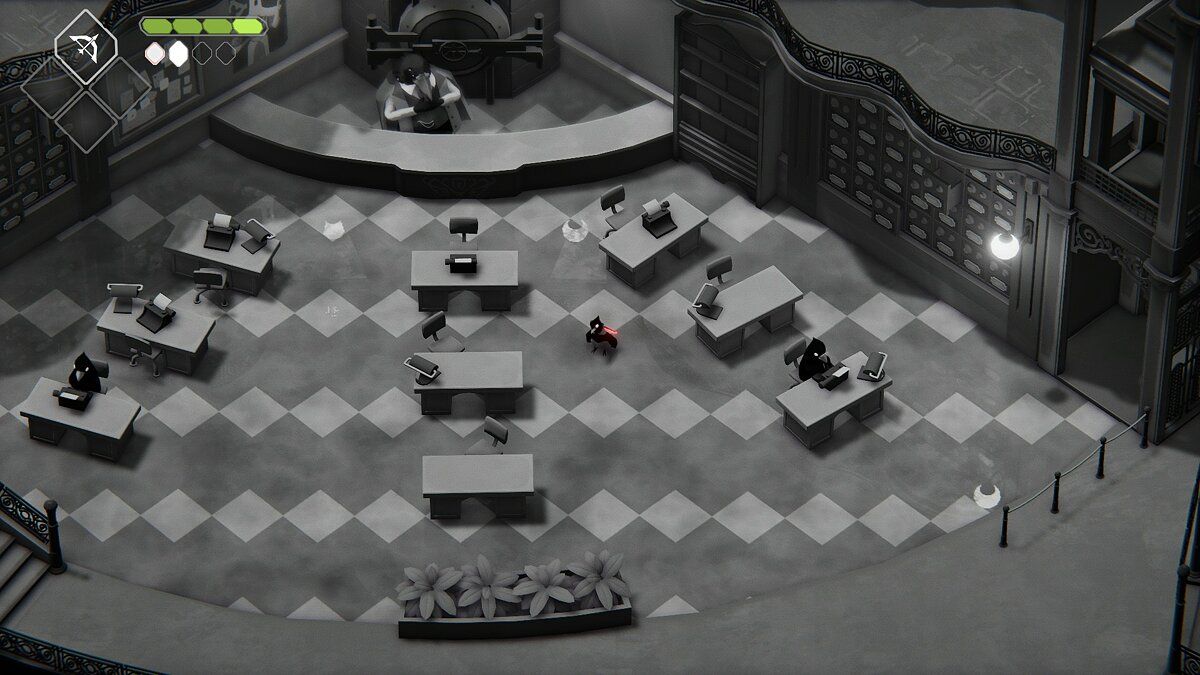 Reapers aren't doing so well lately. The living creatures are in no hurry to die: either medicine is on the mend, or the diseases have receded. Reapers can only be nostalgic about the times when the population was decimated by the plague.
But there's still hope. One day a hero receives a promising order: he must travel to one of the worlds and take the soul of a giant.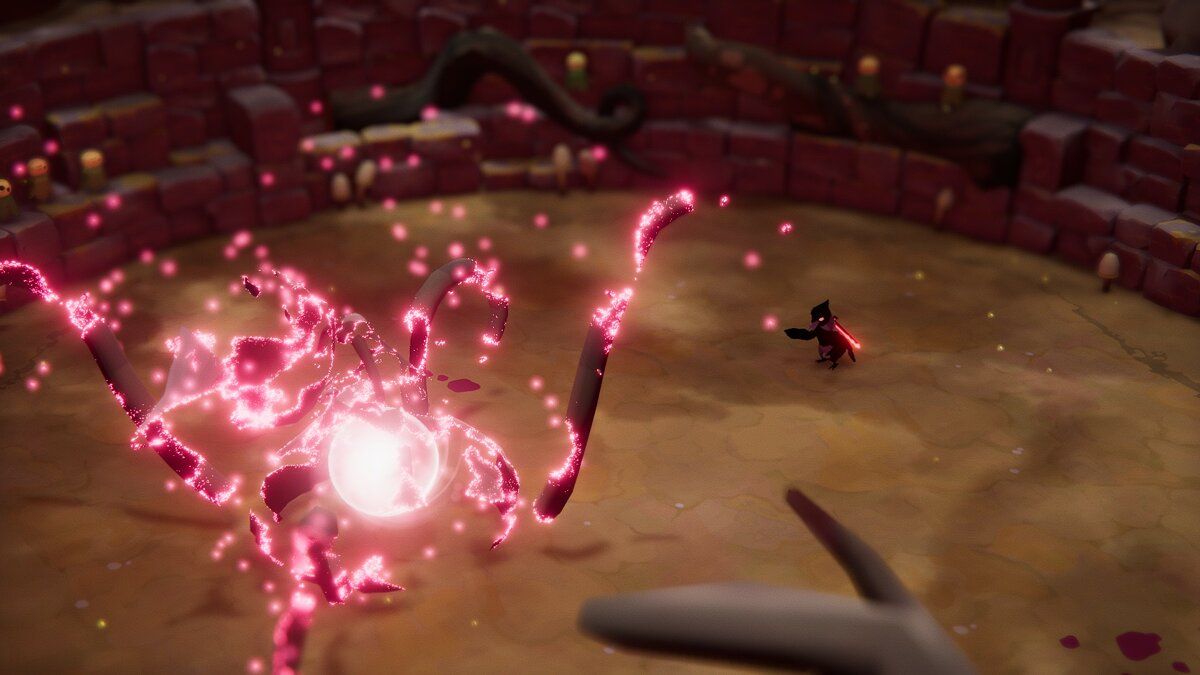 The rules are simple: as soon as a reaper opens a portal, he loses his right to eternal life and begins to age. The portal will close when the ordered soul is delivered to its destination. Accepting this, the hero rushes out to meet the adventure: he finds a giant and smites him with his sword. Soon the lifeless body of their rival falls to the ground.
And the rest of the game doesn't go according to plan.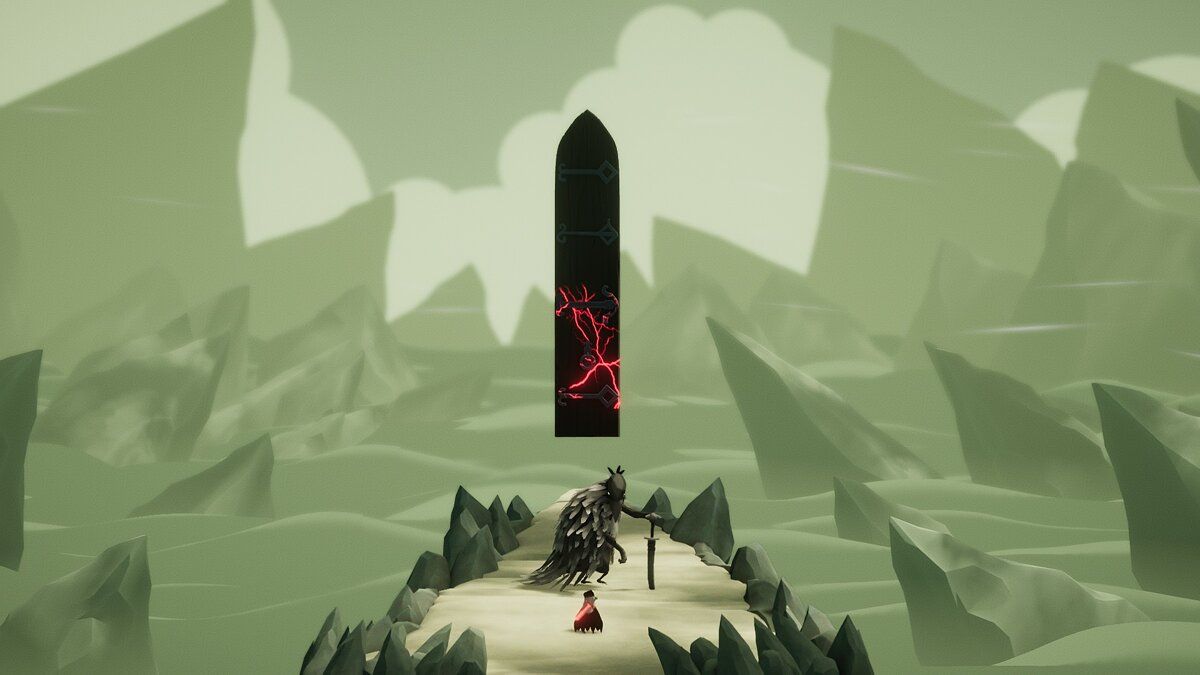 The giant's soul is stolen, and the reaper is left vulnerable. A brief investigation leads to an unpleasant realization: in order to get his soul back, he needs to kill three other mighty giants. So begins a new journey full of battle and mystery.
The main storyline is presented only in the plot and the finale. The rest of the time Raven is immersed in local tales of devious giants who sometimes do terrible things out of good intentions. He also learns the lore: from the notes and books you can find out that the reapers are not doing badly because of advanced medicine, but because of a cunning conspiracy.
What kind of weirdos you won't see on the way What kind of weirdos you won't see on the way
Overall, the plot is simple, enjoyable, and gives you clear motivation to move forward. But the focus of the developers have made on gameplay.
Death's Door gameplay
Death's Door — is an isometric action game. Raven runs around the locations, fighting enemies and solving puzzles, while the gamer watches from above.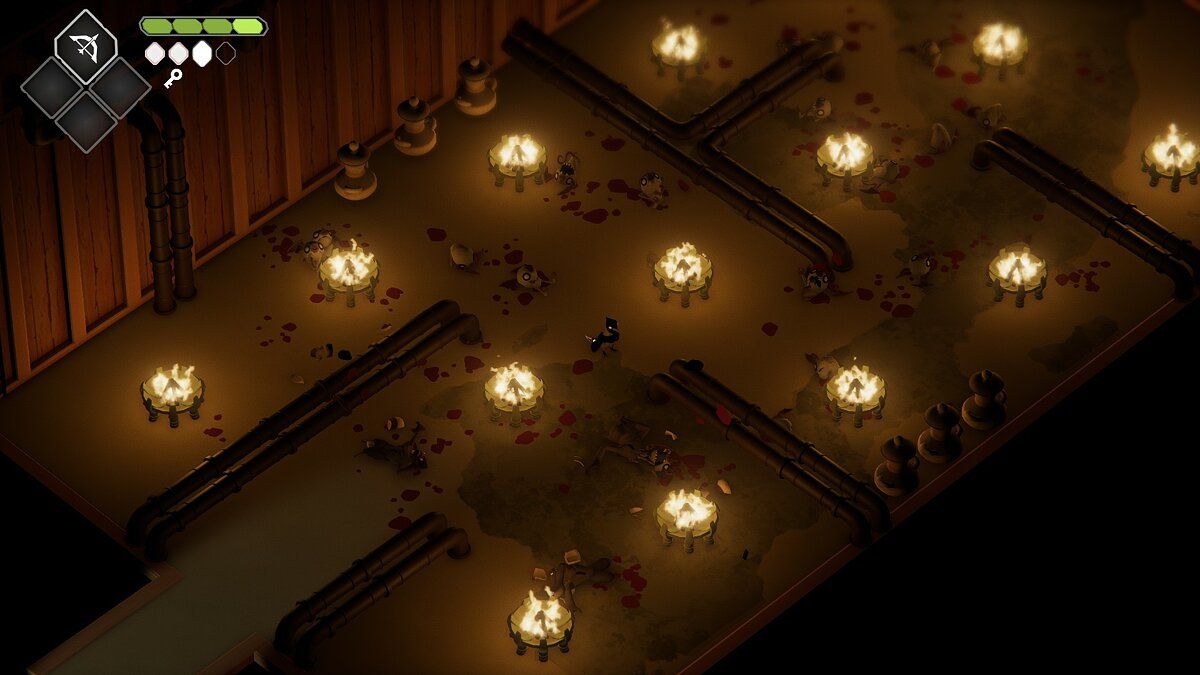 To break through the crowds of enemies, at the start the raven only has a sword and a bow. In close combat you can do weak and strong blows, and the bow allows you to keep the distance. Rebound to dodge attacks.
The initial arsenal seems sparse, but even with it, the levels are fun to pass. The thing is that the combat is full of details: the reaper can strike a spectacular blow after rolling, a magical volley can be repelled by returning it to the sender, and arrows can be let through the flames and cause increased damage. Plus some items can be blown up with a well-aimed shot, sending a few enemies to the afterlife.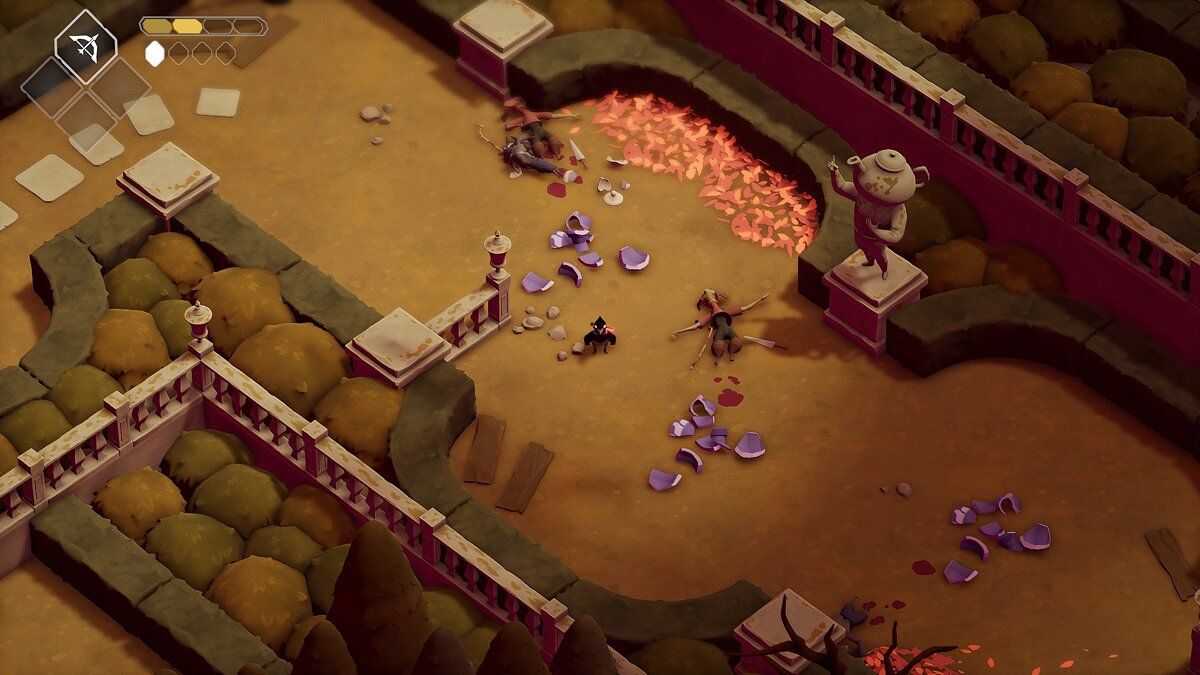 The enemies themselves don't let you relax either. Already in the first locations there is an abundance of monsters: they fly around the reaper, rushing into melee, rolling in his direction, curled into a ball, or cast magic and constantly teleporting.
Once you get used to the bestiary, you'll find yourself in a new location with new enemies. In a ceramic mansion, for example, you'll be battling… jugs. There are dozens of them in the rooms, and who knows if a couple of them won't throw themselves at you. With such opponents the game somewhat begins to resemble the excellent Prey, in which even a roll of toilet paper could be a mime.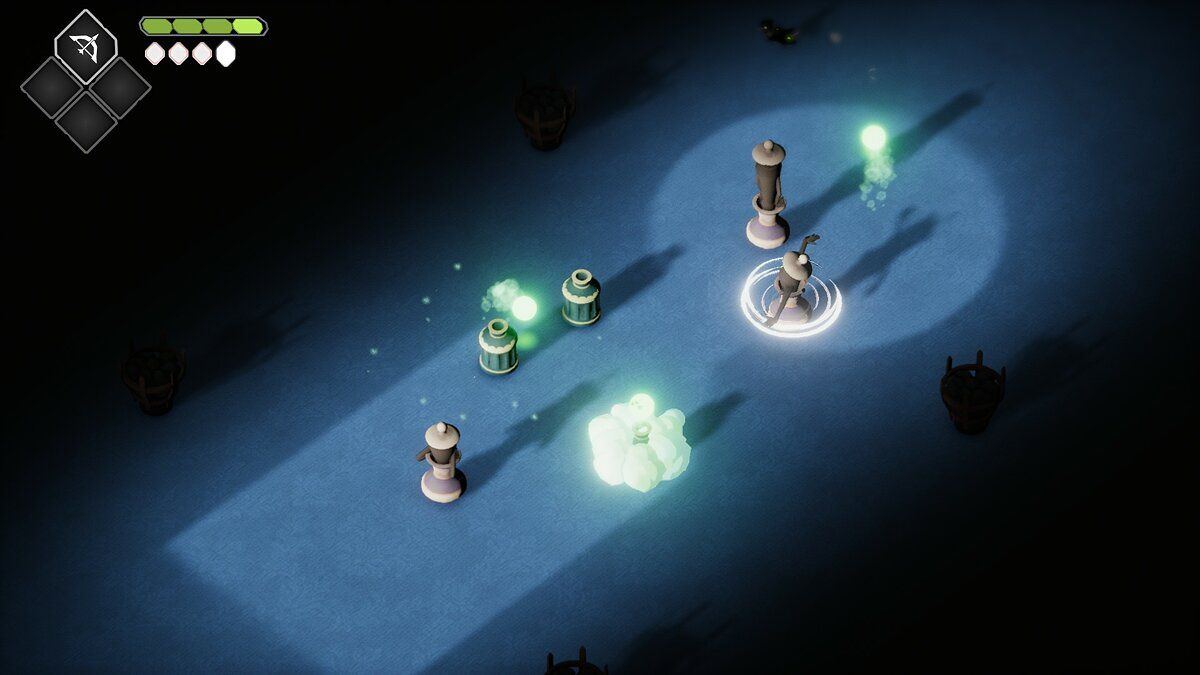 Opponents don't seem deadly, but you shouldn't fight them half-heartedly — Ravens are fragile, and can die after a few missed hits. Battles in arenas get really tense: sometimes all the doors get locked, and portals full of enemies appear right next to you. Sometimes you get out of a fight with fireballs with only a drop of HP.
DEATH! DEATH'S DOOR!
Bosses and mini-bosses pose a much more serious challenge: they are spectacular and varied in Death's Door. At one location you can wait for about five similar opponents. You will be attacked by walking castles with a rocket launcher behind your back, armored knights with sharp attacks, ceramic big men with a shield and sharp teeth and many more. And when it comes to the giants themselves, it's gonna be tough.
It's worth noting that even though the battles are challenging, you can't call them unbearable. Still, Death's Door wasn't made by the great FromSoftware. Some bosses can be beaten on the first try, others require a second go. Only once it took me three tries to win. The main — Learn the boss muve set, and then you'll be on your way.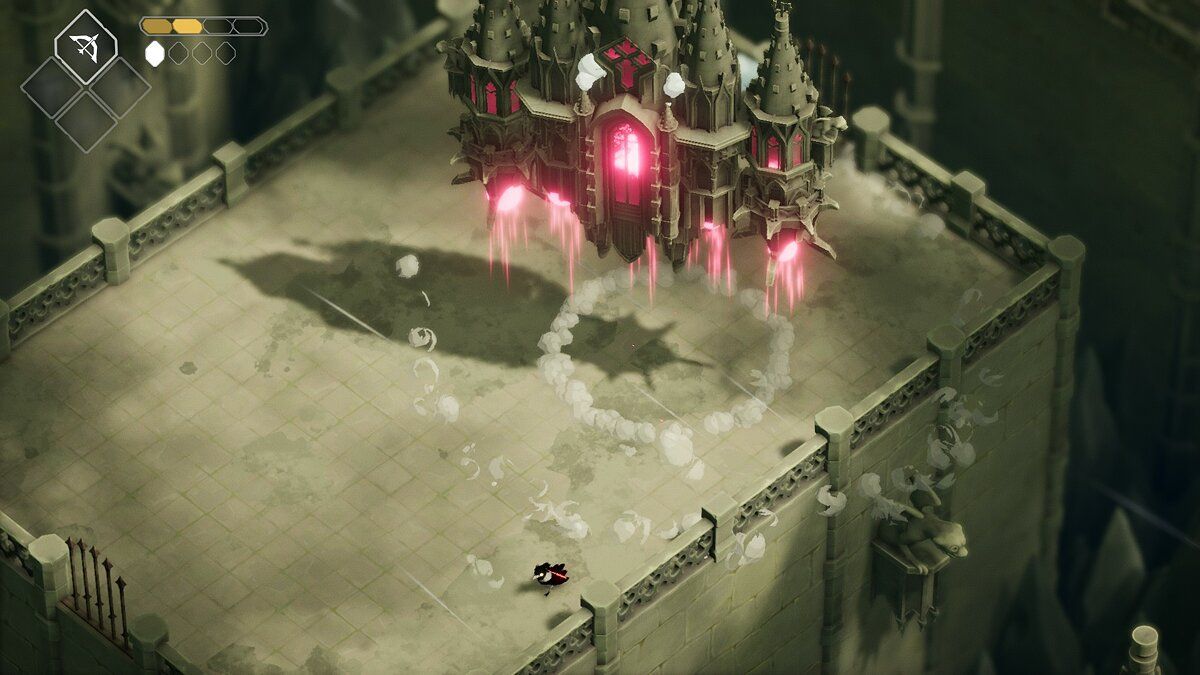 New equipment and abilities help you cope with the difficulties. You can find new weapons in an inconspicuous corner: for example, blades with increased attack speed but reduced damage. And for passing special tests, you can gain a new ability like the power of fire. It will allow you to swap your bow for fireballs and sneak into locations that were previously inaccessible — This adds an element of metroidvania. Alas, something new is rarer than we'd like.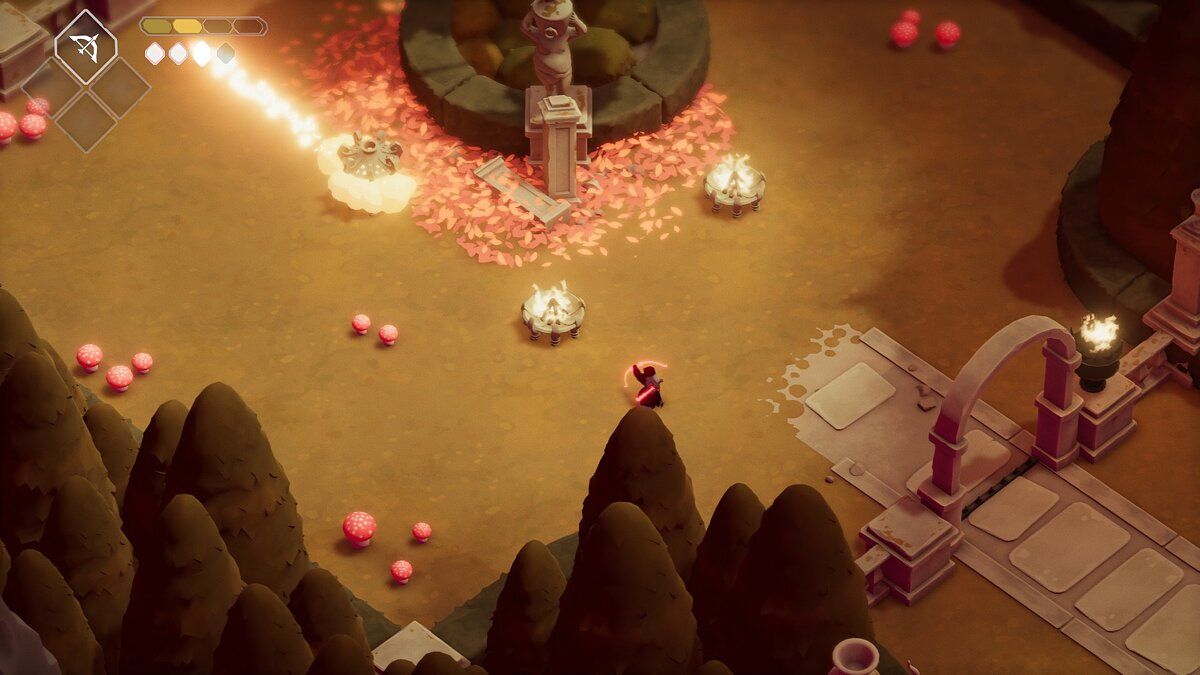 You can't cast fireballs constantly; they require energy which is knocked out during close combat or by destroying items
The raven can also be pumped. As he deals with his enemies, he collects souls to spend in the reapers' office. You can increase the power of close or long range attacks, speed and agility. The effect they produce is palpable: if before you had to hit a weak enemy three times, after one power boost two hits will be enough.
Even though Death's Door has souls-like elements like souls, shortcuts, and resurrected enemies, death doesn't have the same consequences as in Bloodborne. Your souls won't be taken from you and you won't have to give them back.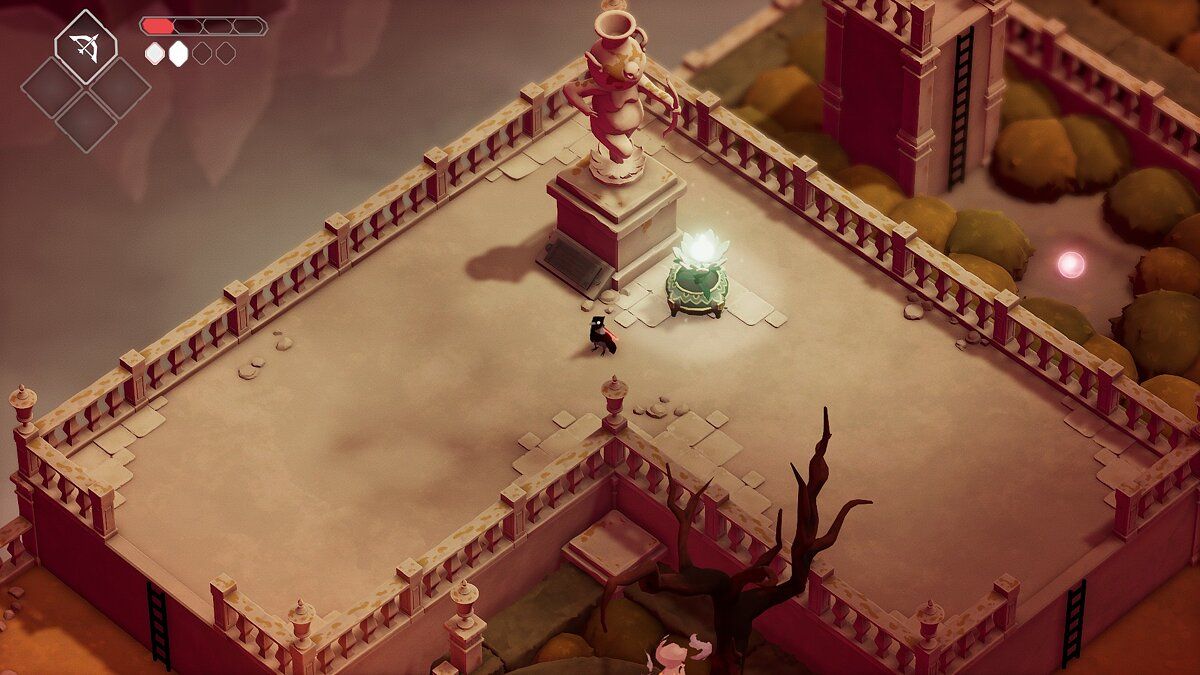 Restore health after combat is not so easy: you have to find a seed, and then plant it in a pot — There a healing flower grows there Restore health after combat is not so easy: you need to find a seed, and then plant it in a pot — There will grow a healing flower
In addition to fighting you can have fun looking for riddles and valuable objects. You can enter an unremarkable room and spot a hidden passageway in the reflection — Such attentiveness will allow to increase magic potential. And by wandering under the ceiling of the ceramic manor you can find an engagement ring — ♪ if someone agrees to join the raven in matrimony ♪?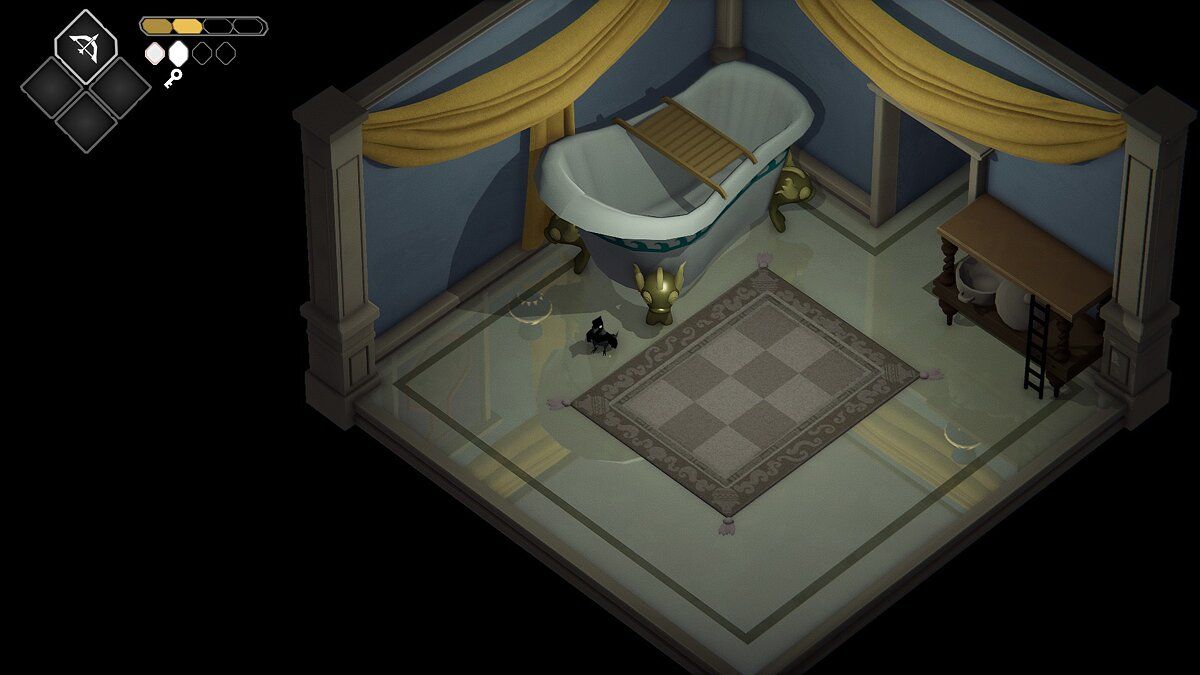 Someone will run the bathroom, shrugging their shoulders. For nothing! Someone will run through the bathroom with a shrug of the shoulders. You should !
Sometimes you have to solve puzzles, but they are very simple. They're probably just for a little break from the fights.
Graphics, system requirements and controls
Death's Door is not a high-tech game — It's extremely simple. At the same time the authors managed to create charming visuals: the game is stylishly drawn, its locations are attractive, and the world is saturated with universal sadness. Exploring the terrain and looking at the scenery is enjoyable. It's likely that organizers of prestigious ceremonies will celebrate Death's Door's visuals and, at the very least, nominate it for prestigious awards.
To enjoy the beautiful world of Death's Door, a simple PC is enough. GeForce MX 150, 8GB RAM and Intel Core i5-8250U — with this iron you can comfortably pass the game.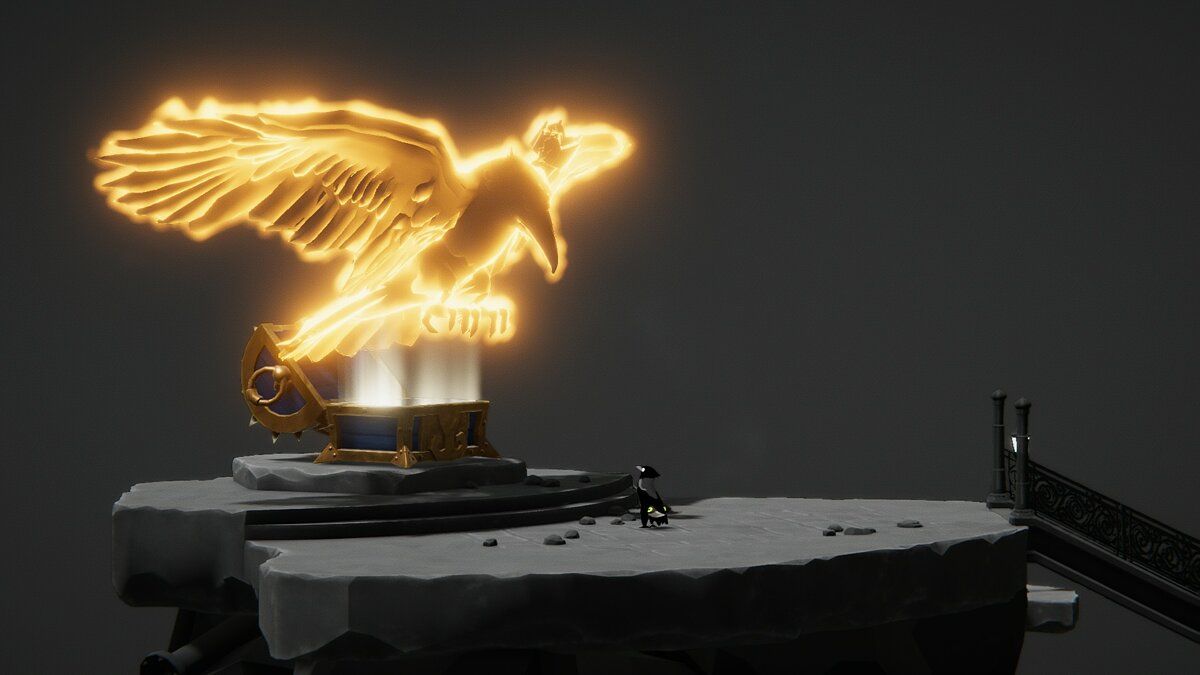 Great soundtrack helps immersion — sad tunes create the right mood Immersion is helped by a great soundtrack — Sad melodies create the right mood
The brainchild of Acid Nerve is better to pass on a joystick. There are no obvious problems with the keyboard and mouse, but it feels like the game has been honed for other devices. After getting through a couple of locations on the keyboard, I plugged in a gamepad — has become much more convenient.
Death's Door is unlikely to be as big a hit as Dead Cells and Hades — All of its mechanics are well known to gamers, and it does not bring anything new to the genre. However, the project definitely deserves attention. The developers have made an elaborate combat, a beautiful world and a variety of locations. The game will give you ten wonderful hours that you will remember for a long time.